My Blog
Posts for tag: braces
By Farmbrook Dental Group
October 21, 2021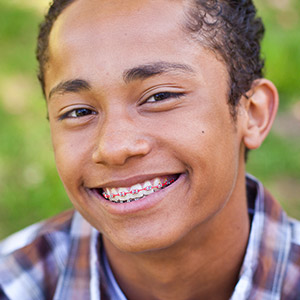 Braces are so common that we often view them as "ho-hum." But there are aspects about braces that make them remarkable. For one, the fact that we can move teeth at all is a wonder of nature.
We normally experience our teeth as firmly set in the jaw, which can easily lead to assuming they're permanently fixed to the bone. They're not. Teeth are actually held in place by a fibrous gum tissue called the periodontal ligament that lies between them and the jawbone. The ligament anchors to both with tiny fibers, which on the tooth side affixes within a thin substance called cementum deposited on the tooth root.
As we said, we don't normally notice teeth moving. But the periodontal ligament does allow movement on a miniscule scale as a response to normal pressures that accompany biting and chewing. Although we're unaware of it, this movement takes place as the bone and cementum ahead of the direction of movement begin to dissolve. Simultaneously, new bone and cementum develops on the other side of the tooth to stabilize the movement.
Orthodontic treatment takes advantage of this natural process. The anchored wires of braces through attached brackets place pressure on the teeth in the intended direction for tooth movement. The natural mechanism described earlier does the rest. Over time, orthodontists have developed an amazing amount of precision working within this mechanism.
Another aspect about braces and other methods we may take for granted is our motive for even trying to move teeth in the first place. It may seem we're only realigning teeth to produce a more attractive smile—which they can do and why we often refer to braces as the "original smile makeover." But there's an even greater desire—straightening teeth can improve dental health.
Poor bites in turn cause other problems. Misaligned teeth are more difficult to keep clean of bacterial plaque, which increases the risk of disease. A poor bite can also accelerate teeth wear and contribute to gum problems like recession. We can eliminate or minimize these problems through bite correction.
Whatever your age, braces or other means can vastly benefit your health and your appearance. They may not always seem so, but braces are one of the true wonders of dental care.
If you would like more information on bite correction through orthodontics, please contact us or schedule an appointment for a consultation. You can also learn more about this topic by reading the Dear Doctor magazine article "Moving Teeth With Orthodontics."
By Farmbrook Dental Group
September 26, 2020
The 2019 Grammy Awards was a star-studded night packed with memorable performances. One standout came from the young Canadian singer Shawn Mendes, who sang a powerful duet of his hit song "In My Blood" with pop diva Miley Cyrus. But that duo's stellar smiles weren't always quite as camera-ready as they looked that night.
"I had braces for four and a half years," Mendes told an interviewer not long ago. "There's lots and lots and lots of photo evidence, I'm sure you can pull up a few." (In fact, finding one is as easy as searching "Sean Mendes braces.")
Wearing braces puts Mendes in good company: It's estimated that over 4 million people in the U.S. alone wear braces in a typical year—and about a quarter of them are adults! (And by the way: When she was a teenager, Miley Cyrus had braces, too!)
Today, there are a number of alternatives to traditional metal braces, such as tooth-colored braces, clear plastic aligners, and invisible lingual braces (the kind Cyrus wore). However, regular metal braces remain the most common choice for orthodontic treatment. They are often the most economical option, and can be used to treat a wide variety of bite problems (which dentists call malocclusions).
Having straighter teeth can boost your self-confidence—along with helping you bite, breathe, chew, and even speak more effectively. Plus, teeth that are in good alignment and have adequate space in between are easier to clean; this can help you keep your mouth free of gum disease and tooth decay for years to come.
Many people think getting braces is something that happens in adolescence—but as long as your mouth is otherwise healthy, there's no upper age limit for orthodontic treatment. In fact, many celebrities—like Lauren Hutton, Tom Cruise and Faith Hill—got braces as adults. But if traditional braces aren't a good fit with your self-image, it's possible that one of the less noticeable options, such as lingual braces or clear aligners, could work for you.
What's the first step to getting straighter teeth? Come in to the office for an evaluation! We will give you a complete oral examination to find out if there are any problems (like gum disease or tooth decay) that could interfere with orthodontic treatment. Then we will determine exactly how your teeth should be re-positioned to achieve a better smile, and recommend one or more options to get you there.
If you have questions about orthodontic treatment, please contact our office or schedule a consultation. You can read more in the Dear Doctor magazine articles "The Magic of Orthodontics" and "Lingual Braces: A Truly Invisible Way to Straighten Teeth."
By Farmbrook Dental Group
March 26, 2019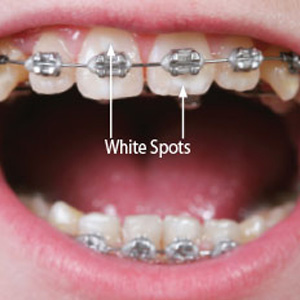 Braces can be a long, involved process, but gaining a more attractive smile and better oral health is worth it. Sometimes, though, braces can produce unintended short-term consequences.
Brace brackets and wires do the work of moving teeth to better positions. They can, however, hinder the wearer's hygiene efforts to remove plaque, a thin film of bacteria and food particles, from tooth surfaces. Plaque buildup increases the risk of dental disease and other ill effects.
One such effect while you're wearing braces is the formation of tiny spots that look pale and chalky on otherwise smooth and polished enamel. These are white spot lesions (WSLs), where acid has remained for too long on the tooth enamel. They occur because acid-producing bacteria escape removal during brushing and flossing due to the braces hardware.
We want to try to prevent WSLs while wearing braces, and not just because they're unattractive. You're actually looking at enamel erosion, which could lead to cavity development at those weakened spots.
Although difficult for you as a braces wearer, daily brushing and flossing is crucial to WSL prevention. You'll need to take more time to be sure you're reaching all around the wires and brackets. You can improve your effectiveness with special brushes for braces and floss threaders or water irrigators. You can also help keep acid levels low by cutting back on acidic foods and beverages, especially sodas, coffee or spicy foods.
Even if you develop WSLs we can treat them effectively, especially if caught early. One way is by aiding enamel re-mineralization through saliva stimulation (the mouth's acid neutralizer) or applying fluoride to the teeth to strengthen enamel. We can also use caries infiltration, a technique that injects tooth-colored resin below the surface of the lesion. This strengthens the weakened enamel and gives the area the appearance of translucence like normal enamel.
While you're wearing braces, focus diligently on keeping your teeth clean of plaque and keep up your regular cleaning visits with us. If you notice any unusual discolorations or abnormalities, see us as soon as possible. Stopping WSLs from developing will help ensure your teeth are healthy and attractive after the braces come off.
If you would like more information on dental care with braces, please contact us or schedule an appointment for a consultation. You can also learn more about this topic by reading the Dear Doctor magazine article "White Spots on Teeth during Orthodontic Treatment."