My Blog
Posts for tag: teething
By Farmbrook Dental Group
September 01, 2021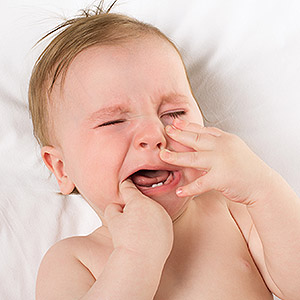 Parents will do just about anything to relieve their children's discomfort when they're in pain. When a toddler is suffering through a teething episode, it's tempting to turn to a topical numbing ointment to soothe their gums.
But there can be a hidden danger for kids if you use certain over-the-counter products used by adults for gum or teeth pain. Many of these topical ointments contain a pain reliever called benzocaine. While it's relatively safe for adults, benzocaine can be hazardous for infants and young children.
Studies have found that benzocaine contributes to a disease called methemoglobinemia, in which a protein in the blood called methemoglobin increases to abnormal levels. Too much of this protein inhibits the transport of oxygen throughout the body. For young children, this can cause shortness of breath, fatigue and dizziness. In extreme cases, it could lead to seizures, coma or even death.
Parents are urged to avoid using any product containing benzocaine to ease gum or teething pain in children. Instead, the American Academy of Pediatric Dentistry recommends providing a child a chilled (not frozen) teething ring, pacifier or a damp clean cloth to chew on. The chewing action helps relieve gum swelling pressure and the cold will help numb the pain. Massaging the gums with a clean finger may also help.
If the pain persists, parents should consult a doctor or pharmacist about giving their child pain medication. Drugs like ibuprofen or acetaminophen (never aspirin) administered in the proper dosage for a child's age can help ease teething discomfort. Medications should always be given orally—you should never rub substances like aspirin or alcohol directly on the gums, which can further irritate already inflamed tissues.
Teething episodes come and go during a child's early dental development—they are like storms that swell and abate before they finally pass. Except when accompanied by fever or diarrhea, there's no need for concern. Your main goal is to help ease their discomfort as much—and as safely—as possible.
If you would like more information on how to help your child weather teething episodes, please contact us or schedule an appointment for a consultation.
By Farmbrook Dental Group
December 11, 2019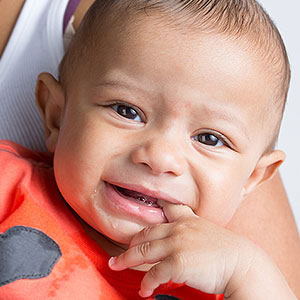 Your sweet, good-natured baby has seemingly gone from zero to grumpy overnight. The reason is simple: They're teething.
Teething is a natural process in which a baby's first teeth (primary teeth) begin to break through the gums, usually between six and nine months of age. This process continues intermittently until all twenty of the primary teeth erupt, sometime around age 3.
This uncomfortable and sometimes painful experience can cause gum swelling, biting and gnawing, chin rash and drooling. Your child may become irritable not only from this physical discomfort but also from disrupted sleep patterns and decreased appetite that often accompanies teething.
While you may have an unhappy baby while they're teething, there's usually no cause for concern. This is a natural process all children encounter, and the best thing you can do is make them as comfortable as possible. An exception would be accompanying diarrhea, fever or lingering crankiness—these could be symptoms of a more serious condition. If you begin to notice these, consult your doctor as soon as possible.
During teething there are a number of things you can do to reduce irritation. For one, allow your child to chew on clean, chilled (not frozen) teething rings, or a cold wet washcloth. The cold will help numb their irritated gum tissues. Massaging their gums with a clean finger can also help counteract the pressure caused by the incoming tooth.
If your doctor advises, you can also give your child over-the-counter pain relievers like acetaminophen or ibuprofen in an age-appropriate dosage. But be sure you give these medications orally and not rub them on the gums—some ingredients in them could burn the tissues. You should also not apply rubbing alcohol to the gums for the same reason. And avoid products with the numbing agent Benzocaine® in children less than two years of age unless your doctor advises otherwise.
Teething isn't always a pleasant time for your baby or you, but it's necessary—and temporary. In no time at all this discomfort will pass, and in its place will be their first set of teeth.
If you would like more information on teething, please contact us or schedule an appointment for a consultation. You can also learn more about this topic by reading the Dear Doctor magazine article "Teething Troubles: How to Help Keep Your Baby Comfortable."
By Farmbrook Dental Group
November 26, 2018
Teething is a normal part of your baby's dental development. That doesn't make it less stressful, though, for you or your baby.
This natural process occurs as your child's primary teeth sequentially erupt through the gums over a period of two or three years. The first are usually the two lower front teeth followed by the two upper front ones, beginning (give or take a couple of months) between six and nine months. By the age of three, most children have all twenty of their primary teeth.
The disruption to the gum tissues can cause a number of unpleasant side effects including gum swelling, facial rash, drooling, disrupted sleep patterns and decreased appetite. As a result a child can become irritable, bite and gnaw to relieve gum discomfort or rub their ears. Every child's experience is different as well as their degree of pain and discomfort.
As a tooth is about to erupt, you may notice symptoms increasing a few days before and after. The symptoms will then subside until the next tooth begins to erupt. In a way, teething is much like a storm—you mostly have to ride it out. However, that doesn't mean you can't lessen your child's discomfort during the teething episode.
For one thing, cold, soft items like teething rings, pacifiers or even a clean, wet washcloth your child can gnaw on will help relieve gum pressure. Chilling the item can have a pain-numbing effect—but avoid freezing temperatures, which can burn the tissues. You can also massage the gums with a clean finger to relieve pain. But don't rub alcohol on their gums and only use numbing agents (like Benzocaine) for children older than two, and only with the advice and supervision of your healthcare provider. The use of acetaminophen or ibuprofen might also be used under the advice of your doctor.
If you notice your child has diarrhea, extensive rashes or fever, contact your physician immediately—these aren't normal teething symptoms and may indicate something more serious. And be sure to consult with us if you have any other questions or concerns.
Teething can be a difficult time for your baby and family. But with these tips and a little "TLC" you can keep their discomfort to a minimum.
If you would like more information on caring for your baby's developing teeth, please contact us or schedule an appointment for a consultation. You can also learn more about this topic by reading the Dear Doctor magazine article "Teething Troubles: How to Help Your Baby be Comfortable."