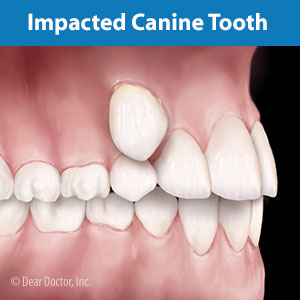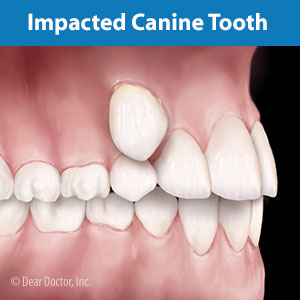 We instinctively know when a smile looks normal—and when it doesn't. It could be that something simply looks out of place like crooked teeth. But we might also notice when something is missing—as with one or both of the canine teeth.
The canine teeth align just under the eyes and are recognizable by their pointed ends. When they're missing, the smile looks "incomplete." But "missing" in this case could mean "invisible"—the teeth are there, but hidden within the gums because they failed to come in properly and became impacted. This often happens on a smaller jaw where other teeth have crowded into the space intended for them.
Fortunately, we may have a remedy, and not just for appearance's sake—any impacted tooth can cause health problems, from gum abscesses to root damage of neighboring teeth. Although this might necessitate their surgical removal, we might also be able to coax them through the gums into better position in the jaw, if they're in a reasonably good position. This could result in both a boost to a patient's oral health and a more normal looking smile.
First, though, a patient will need to undergo a thorough bite evaluation by an orthodontist. Besides pinpointing the impacted teeth's precise location with x-rays or CT technology, an orthodontist will also want to assess the positions and condition of the rest of the teeth. If the conditions are right and there's enough room in the jaw, the orthodontist may recommend drawing the impacted canines into proper alignment in the jaw.
The process starts when an oral surgeon exposes the impacted teeth by surgically cutting through the gum tissue. They then attach a small bracket to the tooth with a tiny metal chain attached, the other end of which is looped over orthodontic hardware attached to other teeth. The tension on the chain by the hardware gradually nudges the teeth downward out of the gums. This is usually done in coordination with other measures to fully correct the bite.
If the procedure is successful, bringing the canines out of impaction reduces the problems those teeth could cause the person's oral health. But just as important, it can restore normality to their smile.
If you would like more information on treating impacted teeth, please contact us or schedule an appointment for a consultation. You can also learn more about this topic by reading the Dear Doctor magazine article "Exposing Impacted Canines."