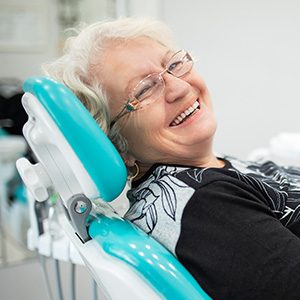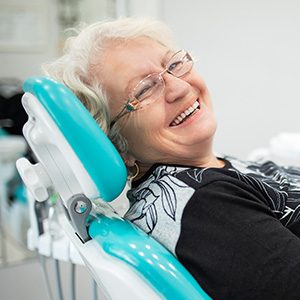 As we get older, we become more susceptible to chronic health conditions like diabetes, heart disease or arthritis. We can also begin to see more problems with our teeth and gums.
Whether it's ourselves or an older loved one, oral health deserves a heightened focus as we age on prevention and prompt treatment. Here's what you can do to protect you or a family member's teeth and gums during the aging process.
Make accommodations for oral hygiene. Keeping your mouth clean of disease-causing plaque is important at any age. But it may become harder for someone getting older: Manual dexterity can falter due to conditions like arthritis or Parkinson's Disease. Older adults with decreased physical ability may benefit from larger gripped toothbrushes or those modified with a bicycle handle. Electric power brushes are another option, as are water irrigators that can do as effective a job of flossing as threaded floss.
Watch out for "dry mouth." Older adults often develop chronic dry mouth due to saliva-reducing medications they might be taking. It's not just an unpleasant feeling: Inadequate saliva deprives the mouth of acid neutralization. As a result, someone with chronic dry mouth has a higher risk for tooth decay. You can reduce dry mouth by talking with your doctor about prescriptions for you or a family member, drinking more water or using saliva boosting products.
Maintain regular dental visits. Regular trips to the dentist are especially important for older adults. Besides professional cleanings, dentists also check for problems that increase with aging, such as oral cancer. An older adult wearing dentures or other oral appliances also needs to have them checked periodically for any adverse changes to fit or wear.
Monitor self-care. As long as they're able, older adults should be encouraged to care daily for their own teeth. But they should also be monitored in these areas, especially if they begin to show signs of decreased mental or physical abilities. So, evaluate how they're doing with brushing and flossing, and look for signs of tooth decay or gum disease.
Aging brings its own set of challenges for maintaining optimum dental health. But taking proactive steps and acting quickly when problems arise will help meet those challenges as they come.
If you would like more information on dental care for older adults, please contact us or schedule an appointment for a consultation. You can also learn more about this topic by reading the Dear Doctor magazine article "Aging & Dental Health."