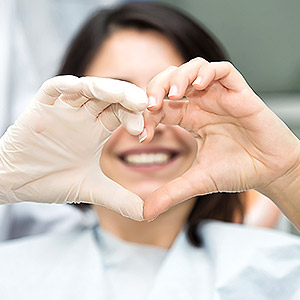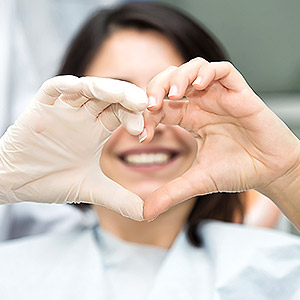 This month there are hearts everywhere we look, so it's fitting that February is designated as American Heart Month. We join with the American Heart Association in the goal of spreading awareness of cardiovascular disease, the top cause of death around the world. And while we think about our heart health, let's talk about the connection between cardiovascular health and oral health.
Cardiovascular disease includes heart disease, high blood pressure and cerebrovascular disease (involving the blood vessels of the brain)—in short, diseases of the circulatory system that can lead to heart attacks and strokes. Periodontal disease, in contrast, attacks the gums and other tissues that hold the teeth in place. The two conditions, however, have more in common than you might think.
Both periodontal (gum) disease and cardiovascular disease are chronic and progressive, and both are linked to inflammation. Periodontal disease and cardiovascular disease share certain inflammation markers detected in the blood that can damage blood vessels. Furthermore, specific types of oral bacteria associated with periodontal disease have been found in plaque that builds up inside of blood vessels, constricting blood flow.
People with gum disease are twice as likely to have cardiovascular disease, and studies show that having advanced gum disease worsens existing heart conditions, increases the chances of having a stroke, and raises the risk of having a first heart attack by 28%. Untreated gum disease also makes hypertension (known as "the silent killer") worse.
However, here's some encouraging news: Intensive treatment for gum disease was shown to result in significantly lower blood pressure. So, as you think about what you can do to take care of your heart health and overall health, don't forget your gums. Here are some tips:
Maintain a dedicated oral hygiene routine. A daily oral hygiene habit that includes brushing twice a day and flossing once a day is the best thing you can do to ward off gum disease.
Visit our office for regular dental checkups. Regular dental cleanings and checkups can keep you in the best oral health. Even with daily brushing and flossing, professional cleanings are needed to remove plaque and tartar from places a toothbrush can't reach, and regular checkups allow us to detect developing problems early.
Eat for good overall health. People who consume less sugar tend to have healthier teeth and gums as well as better overall health. An "anti-inflammatory diet" that is low in sugar and other refined carbohydrates and rich in whole grains, fiber and healthy fats can reduce inflammation throughout your body—and has been shown to greatly improve gum disease.
As a former Surgeon General once wrote, "You can't have general health without oral health." So celebrate this month of hearts by showing love to your heart and your gums.
If you have questions about how to maintain good oral health, call us or schedule a consultation. You can learn more in the Dear Doctor magazine article "Good Oral Health Leads to Better Health Overall."